Popular SEO tools like Clearscope and Ahrefs can cost hundreds of dollars per month—but what do you do when you're trying to do SEO on a budget? Luckily, there are also a number of free SEO tools that can help you rank high on Google without breaking the bank.
If your startup is looking for free SEO tools, but you're not sure which will be best, we've put together our top 30 tool recommendations to help.
Best Free SEO Tools For Success:
1. Google Analytics
2. Google Search Console
3. Google PageSpeed Insights
4. Google Keyword Planner
5. Google Trends
6. Ahrefs
7. Bing Webmaster Tools
8. MozBar
9. AnswerThePublic
10. AlsoAsked
11. Ubersuggest
12. Keyword Tool
13. Seed Keywords
14. Keyworddit
15. WordStream
16. Keyword Surfer
17. Screaming Frog
18. RankMath
19. Yoast SEO Plugin
20. SEMrush
21. Merkle
22. SERP Snippet Optimizer
23. Monitor Backlinks
24. Help a Reporter Out (HARO)
25. Qwoted
26. Help a B2B Writer
27. Detailed SEO Extension
28. Animalz Revive
29. CanIRank
30. SEObility
Frequently Asked Questions
1. Google Analytics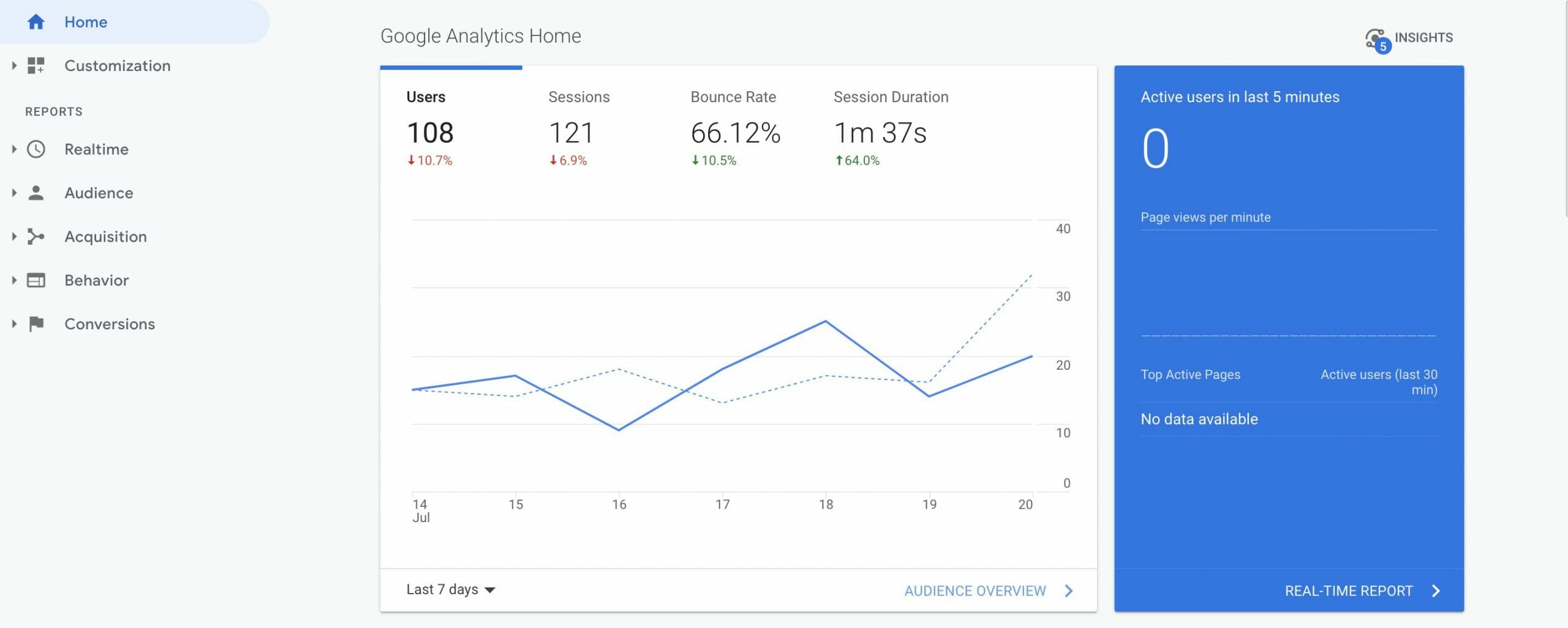 Google Analytics is an awesome free tool for monitoring your website's overall performance. Simply generate a GA tracking tag, place it on your website, and start keeping an eye on the number of website visitors you get. Monitoring performance is a key part of SEO so you can make sure your efforts are working.
2. Google Search Console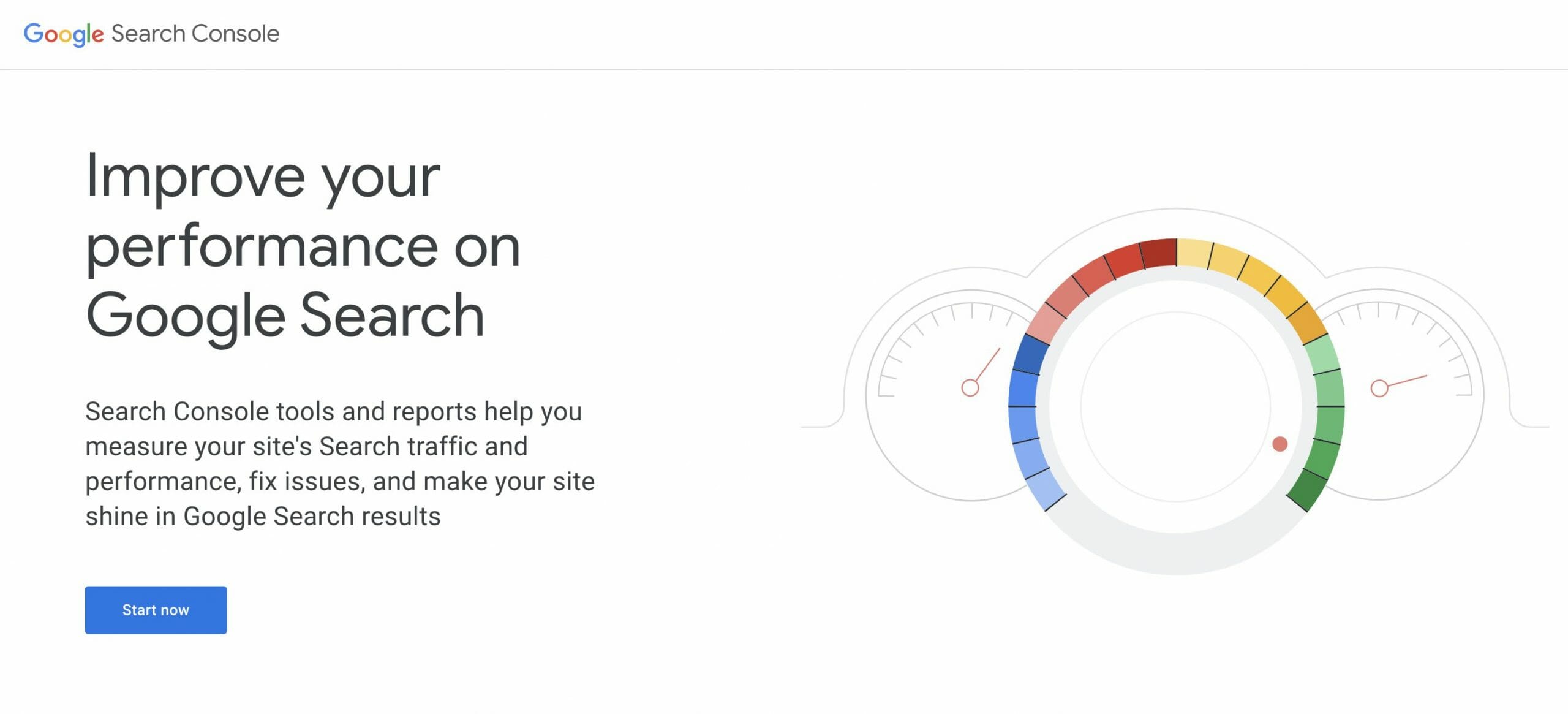 Google Search Console is a must-use for finding out exactly what Google thinks of your website. With this free tool, you can discover technical SEO issues with your site, submit your sitemap for indexing, make sure your website is usable on mobile, and more.
3. Google PageSpeed Insights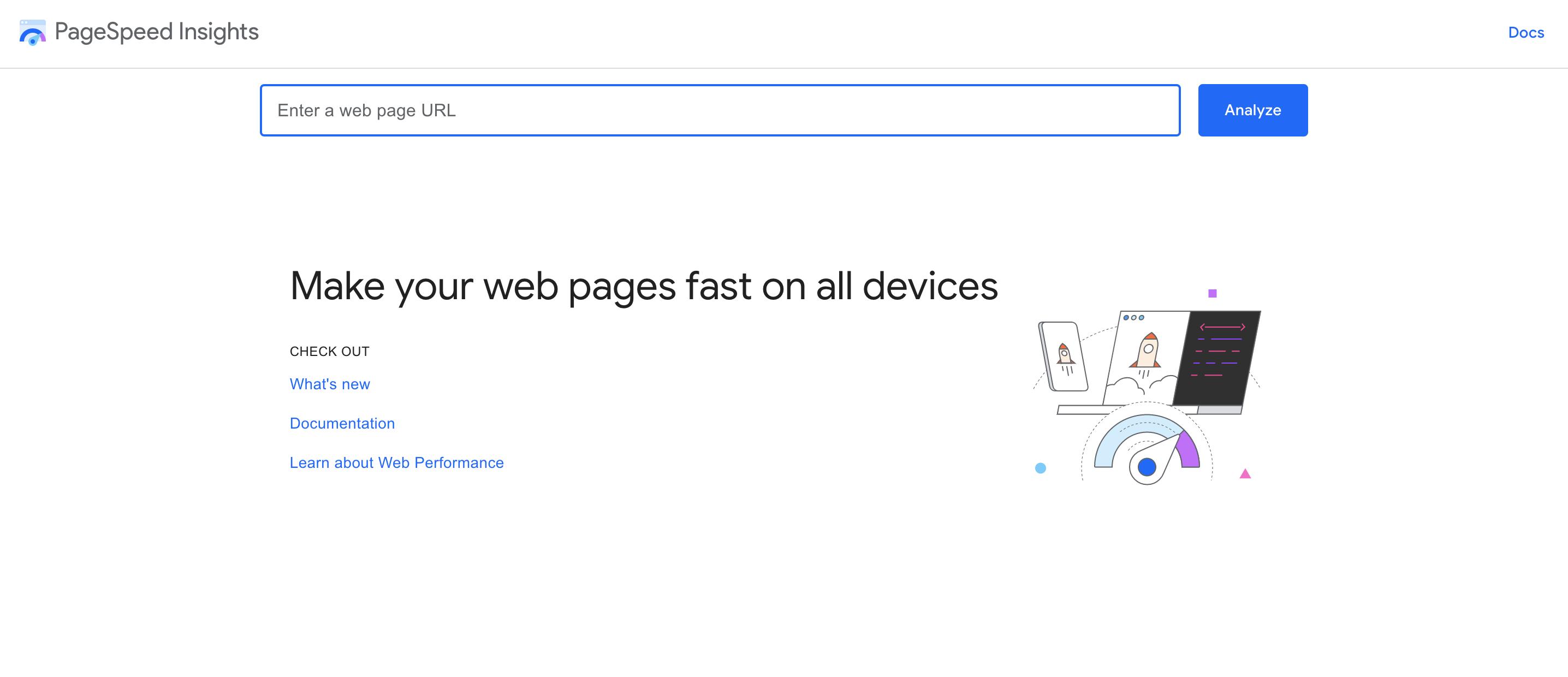 Yet another free tool from Google, PageSpeed Insights is the perfect SEO tool for discovering issues with your website's overall speed. Page load time is a bit SEO factor, so being able to pinpoint why your website is loading so slowly can be a huge help in improving your rankability.
4. Google Keyword Planner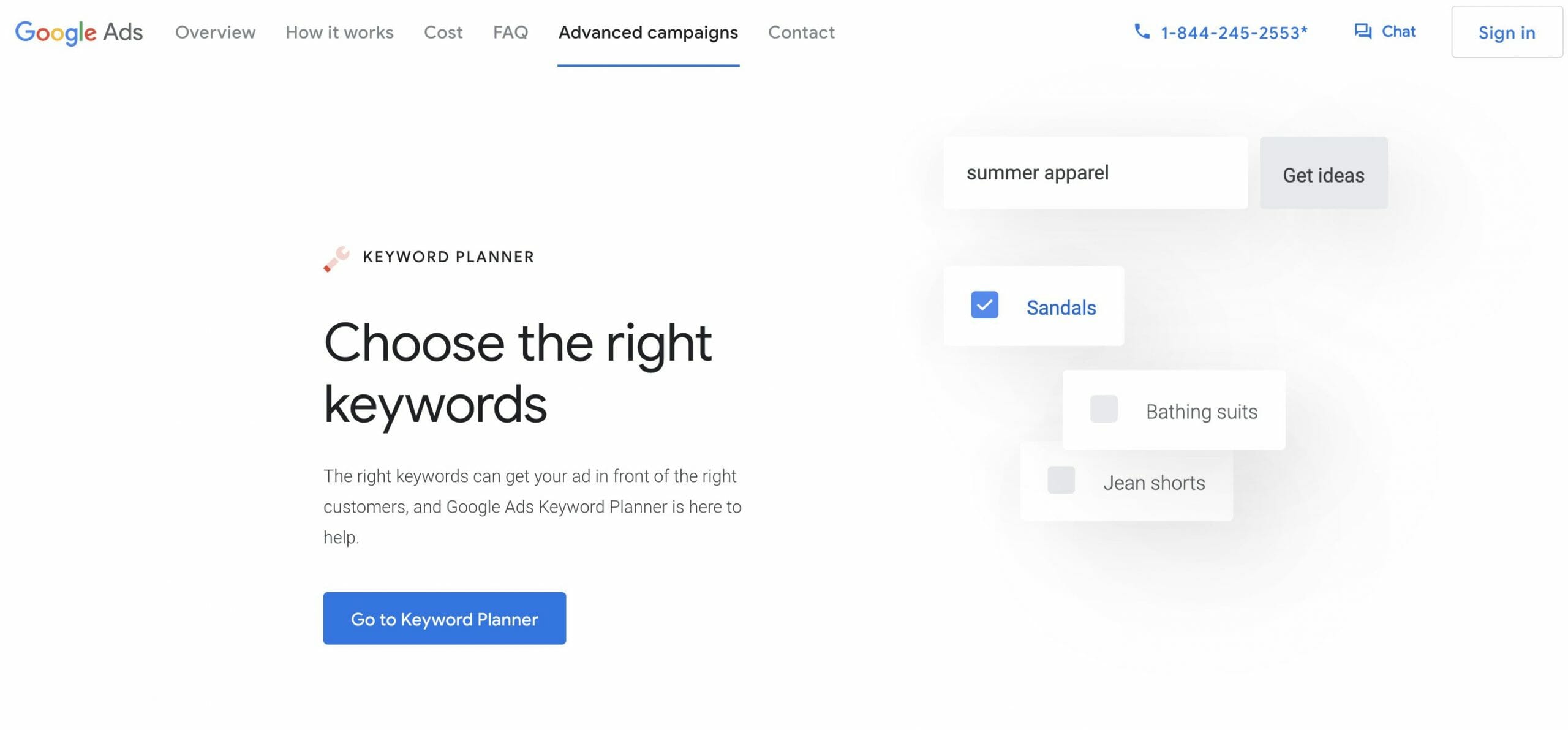 Google Keyword Planner is a helpful tool for finding new keyword ideas. Discover the forecast for your keywords, monthly search volume, and even find a list of keywords you may not have considered. Take advantage of this tool when trying to decide which keywords to use for blog content or landing pages.
5. Google Trends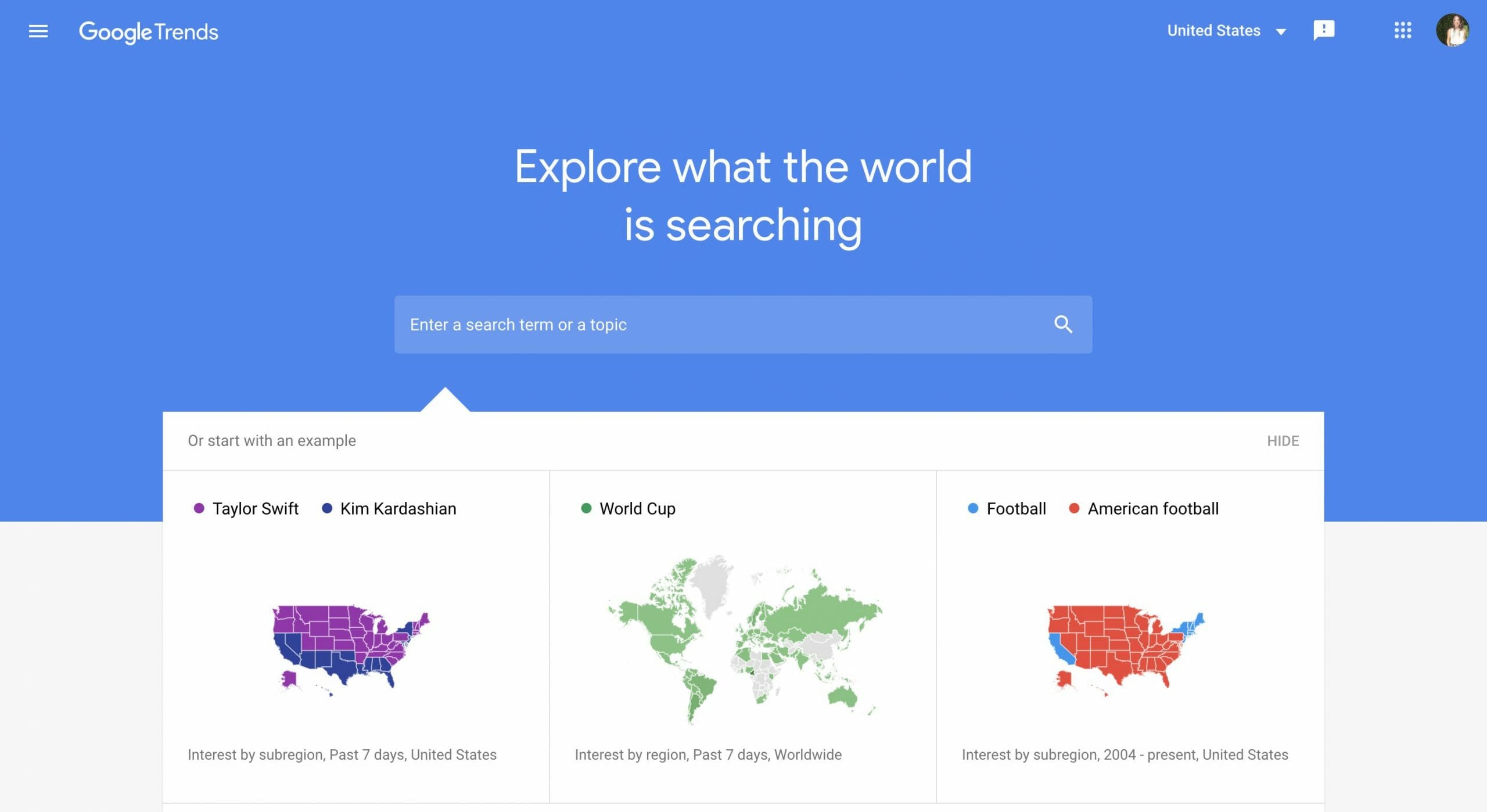 Google Trends can also help out with your keyword research. Type a word or phrase into the search bar to see how popular the keyword has been recently. This helps you make sure you're not writing content about outdated topics.
6. Ahrefs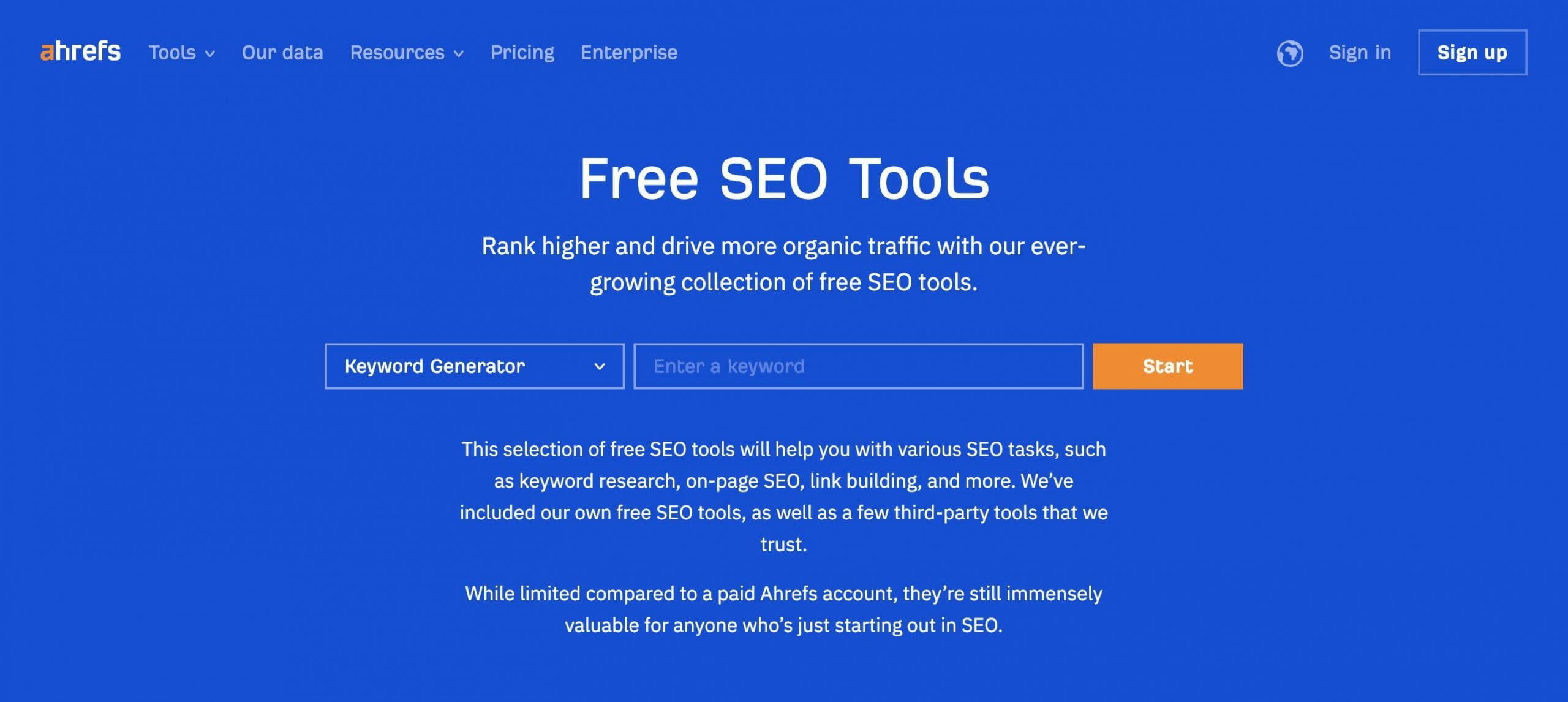 Ahrefs is a popular paid SEO tool with plans starting at $99/month, but it also offers a handful of completely free tools for small businesses on a budget. Some of these tools include:
Free Keyword Generator
Backlink Checker
Keyword Difficulty Checker
Website Authority Checker
SERP Checker
7. Bing Webmaster Tools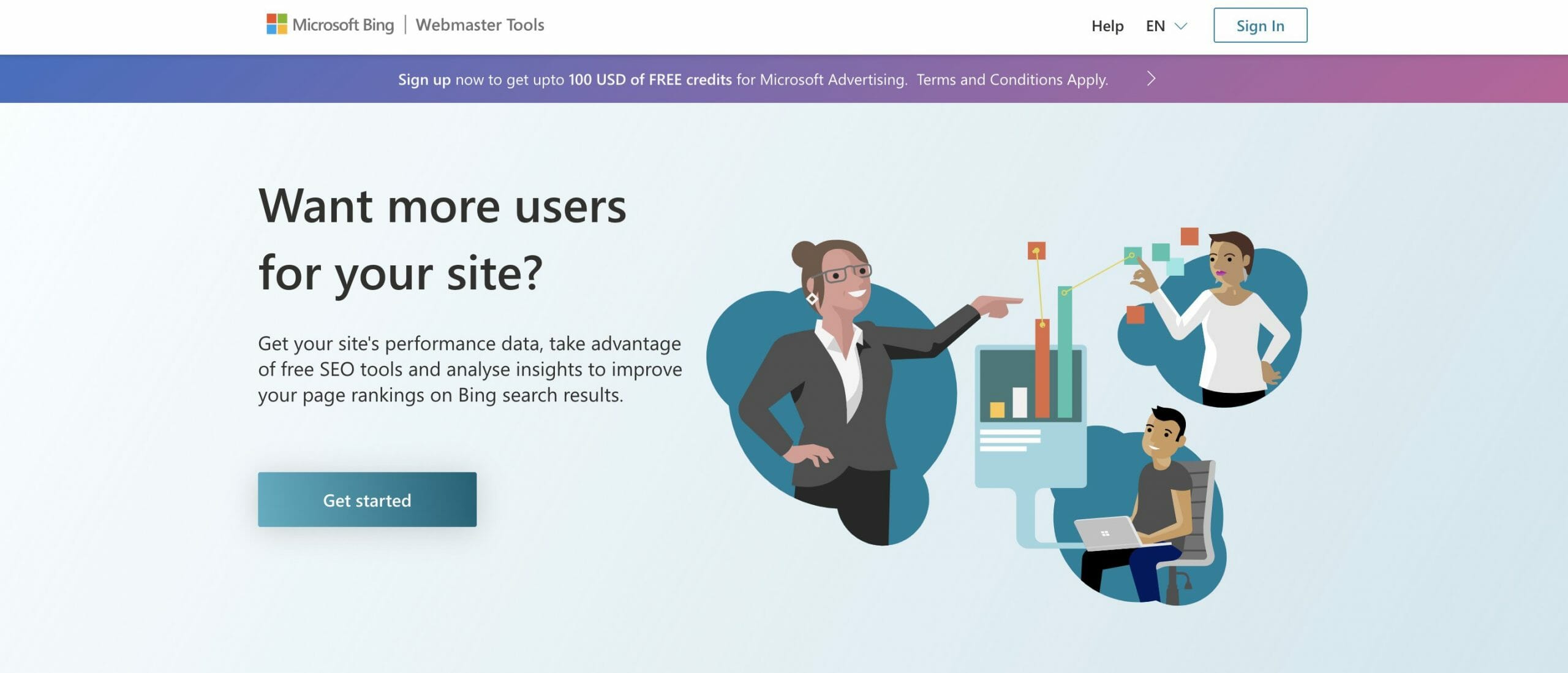 We highlighted five of Google's popular webmaster tools, so it's no surprise that search engine Bing also has its own options. Google is the most popular search engine by far, but it's still important to make sure your website is able to rank on other search engines as well. Bing's tools help with keyword research, monitoring backlinks, generating an SEO report, and more.
8. MozBar

MozBar is a Google Chrome extension that provides users with helpful metrics while they view a webpage or search results page, including information like page authority, domain authority, and spam score. Having this extension helps you discover how your website could compare at a glance.
9. AnswerThePublic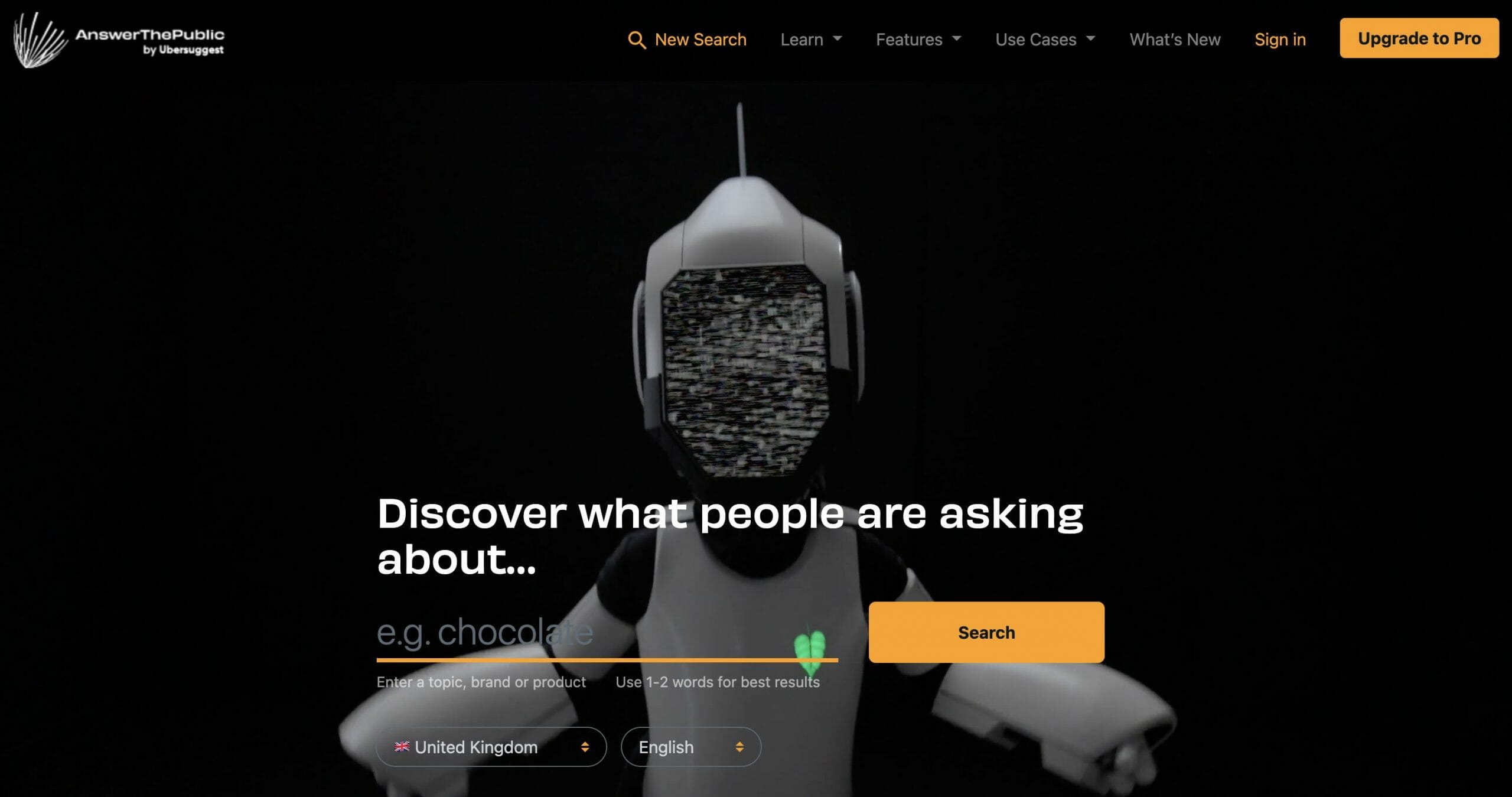 Ever wonder what people are asking about certain topics? Especially those that relate to your business? AnswerThePublic allows you to insert a keyword and find conversations or questions that people are having online about that keyword. This is a great way to discover new blog topics for your business, or to find relevant FAQs for the bottom of blogs or landing pages.
10. AlsoAsked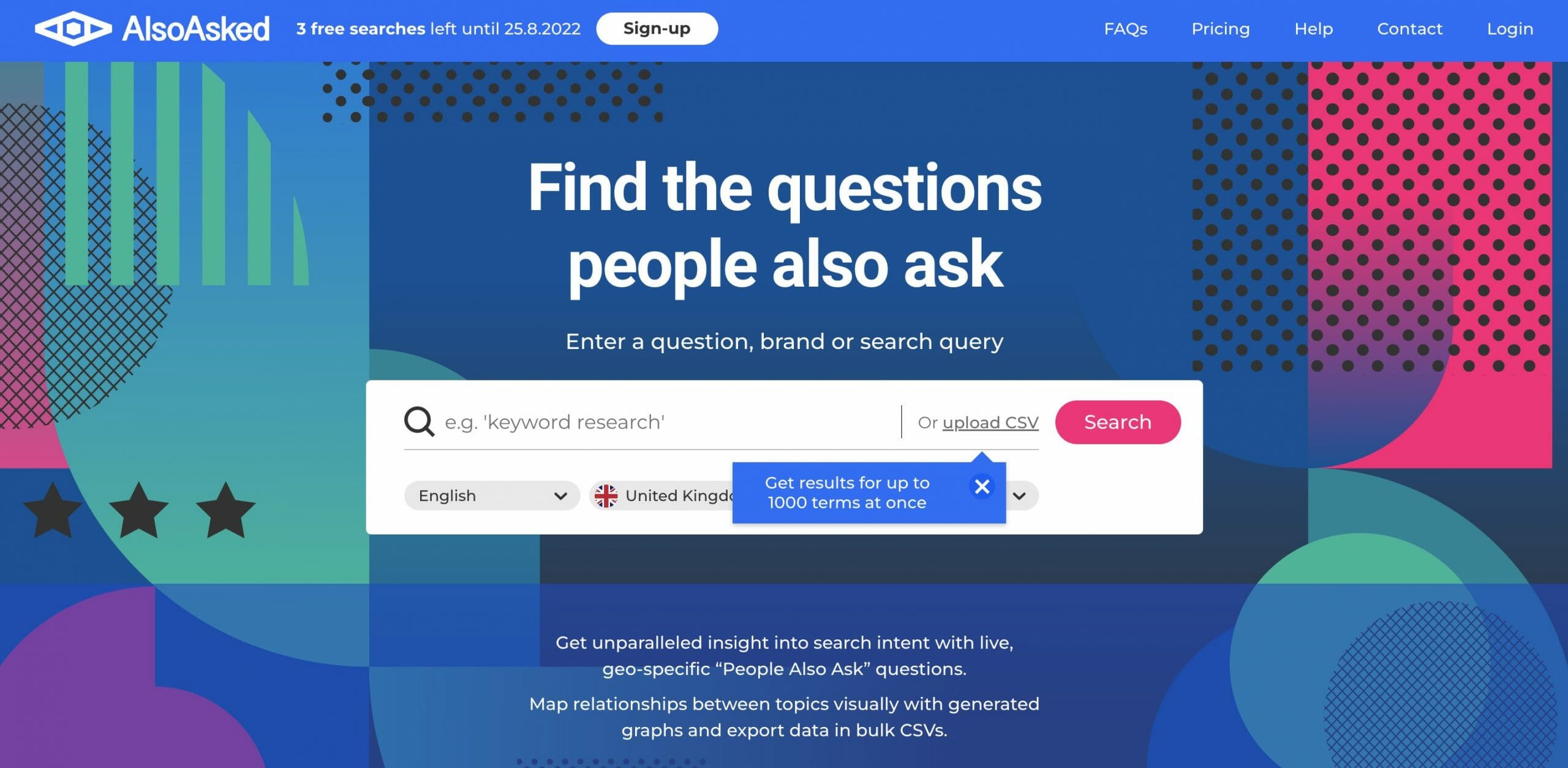 AlsoAsked is another great tool for finding frequently asked questions to add to the bottom of your blog post or landing page. FAQs are a great SEO perk, giving you an advantage in search rankings. If you're able to meet the "People Also Ask" questions in Google SERPs, you're more likely to rank.
11. Ubersuggest

Ubersuggest is a completely free keyword research tool run by marketing guru Neil Patel. Type in a keyword to gather information on search volume, SEO difficulty, CPC, additional keyword suggestions, and more.
12. Keyword Tool

Using Google Autocomplete is a great way to find keyword and content ideas, but the Keyword Tool is a completely free tool that makes this process even easier. With a free account, you can get an entire list of relevant keywords to use for your content strategy.
13. Seed Keywords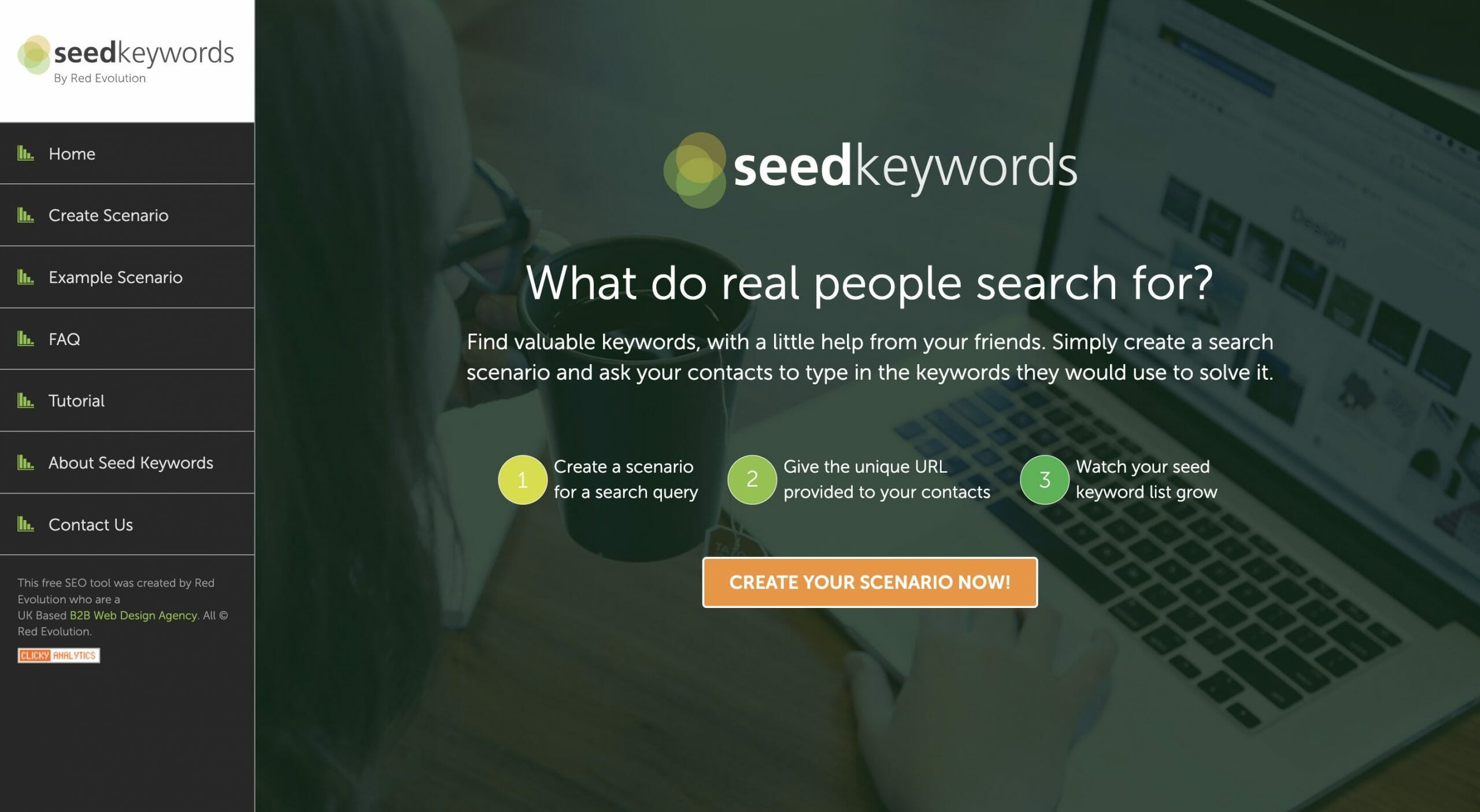 Seed Keywords is a great tool for brand new businesses to use when searching for their USP and how to word their messaging. By sourcing potential keywords from your contacts and your potential customers, you're able to learn how everyday people would search for a business like yours.
14. Keyworddit

Find subreddits relevant to your business and extract some of the major keywords and themes talked about in that forum using the tool Keyworddit. This is a completely free tool that will allow you to export a comprehensive list of keywords into a CSV file.
15. WordStream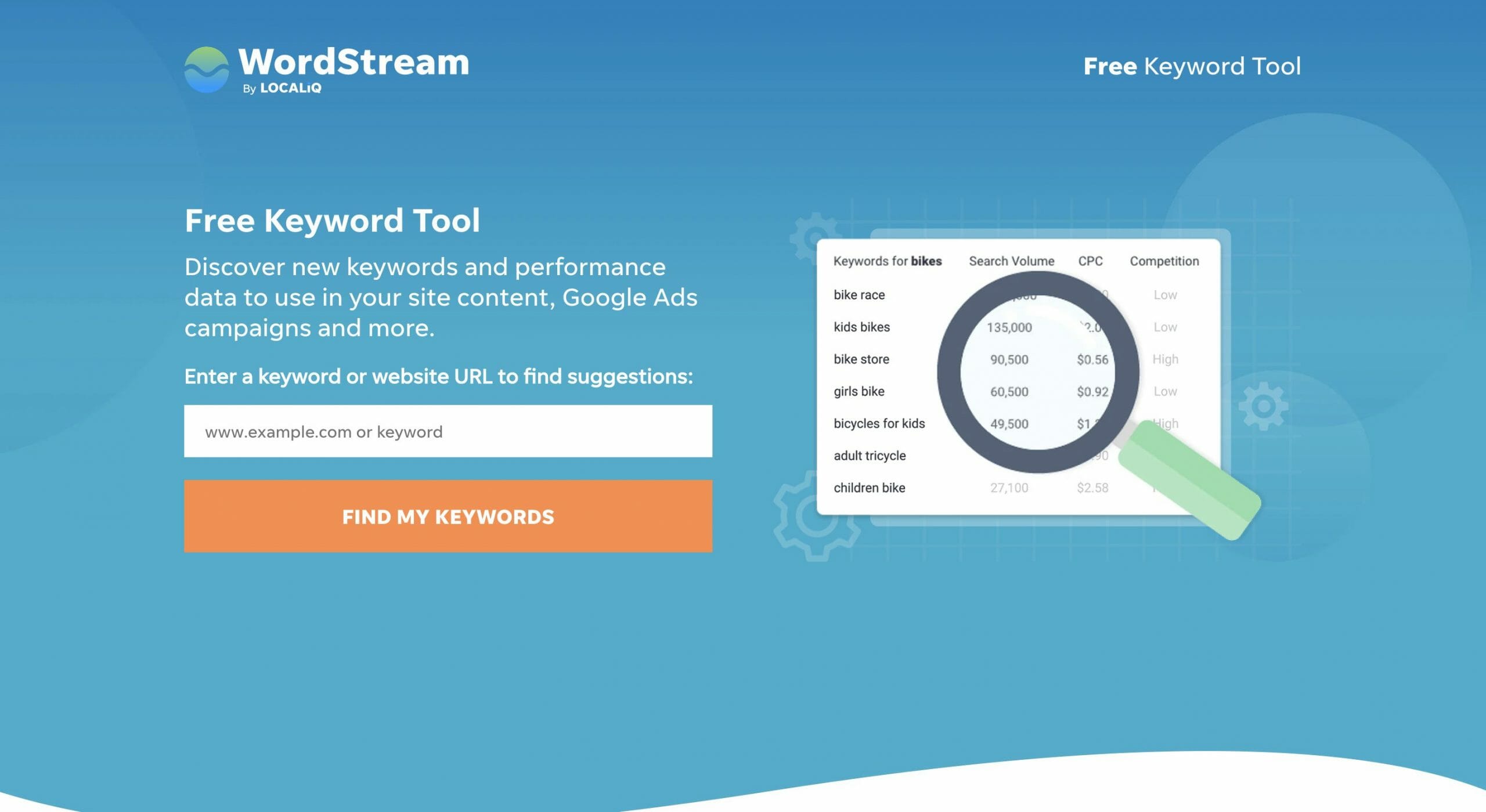 WordStream's free keyword tool is another optionWordStream's Free Keyword Tool  that can help you discover relevant keywords and keyword phrases for your SEO strategies. Enter a keyword or even a competitor's website to find keyword ideas.
16. Keyword Surfer

Keyword Surfer is a free tool by content optimizer SurferSEO. It's another Google Chrome extension that provides SEO metrics right inside your Google search. For example, if you were to search "free seo tools" using this extension, you'd be able to see a small competitive analysis for those already ranking as well as search volume for all popular keywords in Google's autocomplete.
17. Screaming Frog

The Screaming Frog SEO Spider is a free or paid tool (depending on the type of SEO audit you need) created by UK-based SEO agency Screaming Frog. The tool is a site crawler that can help you find broken links, duplicate content, and more with a quick analysis of your website.
18. RankMath

RankMath is a WordPress plugin that helps you optimize your website right from your WordPress dashboard. Make sure your blog posts and landing pages are optimized, access their SEO analyzer, and even input schema markup to get rich snippets.
19. Yoast SEO Plugin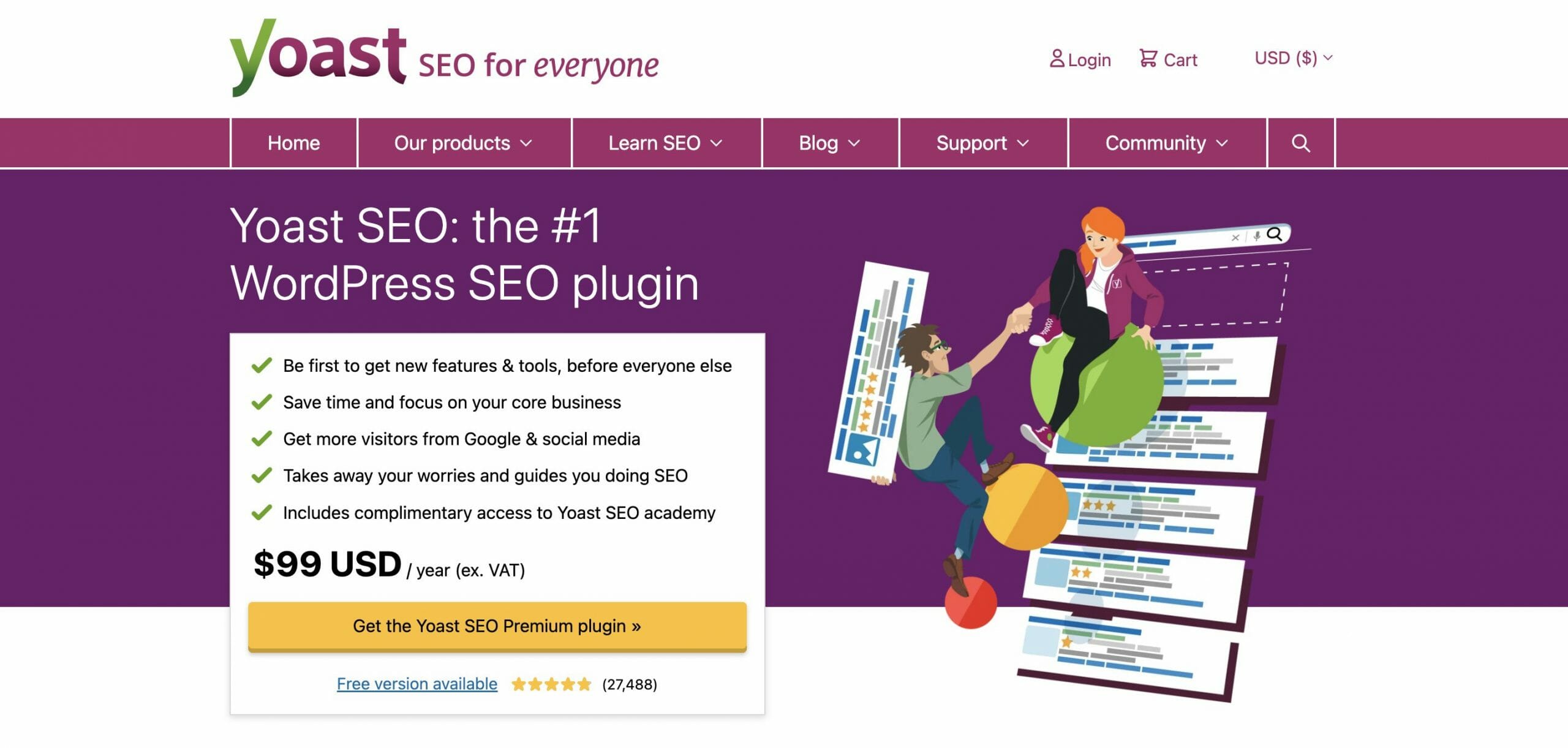 Yoast is another WordPress plugin with both a free and premium plan. However, the free option is still extremely useful. Use it to get an SEO score for your blog content, ensuring it's properly optimized for search.
20. SEMrush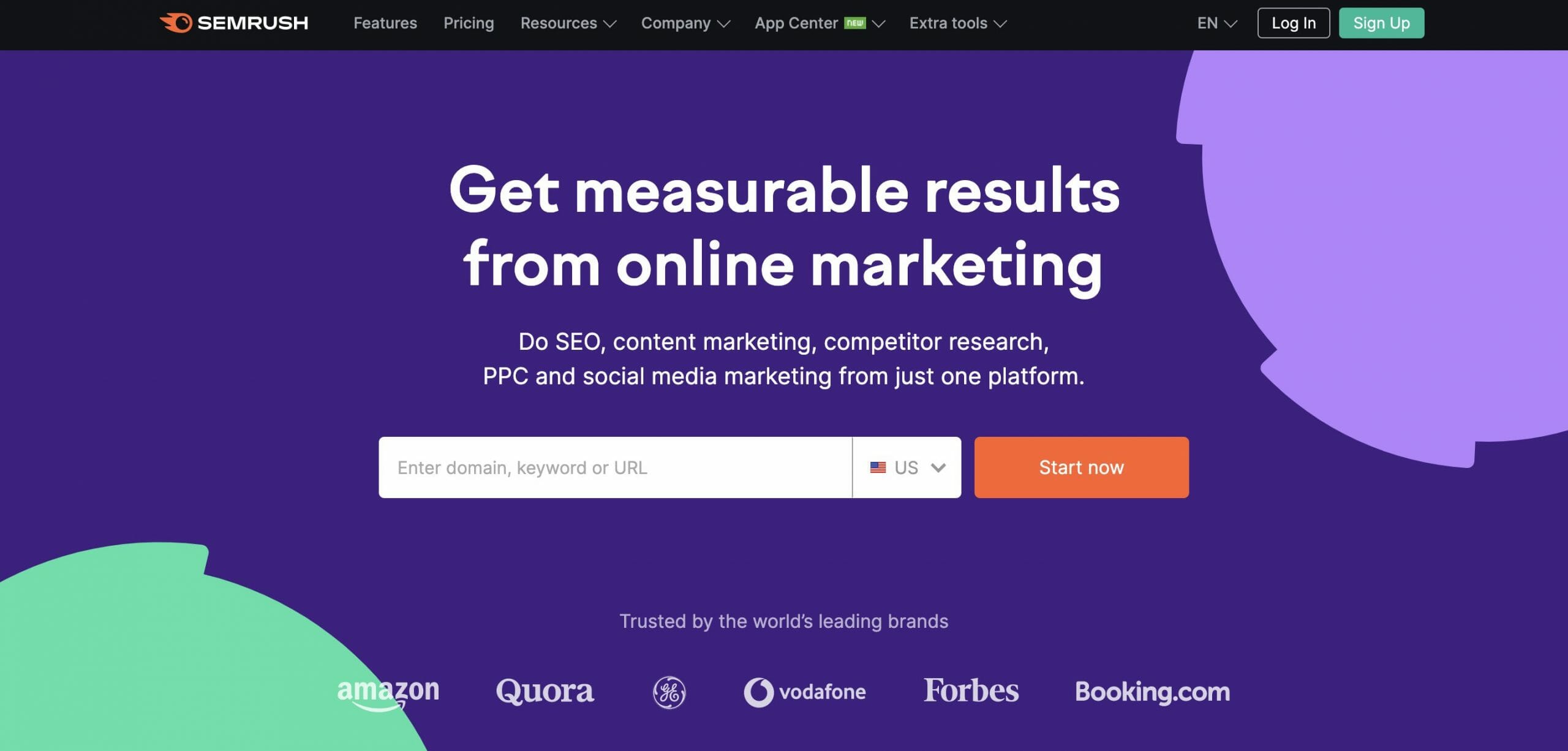 SEMRush is another popular SEO tool with paid plans that start at $119.95/month, but like Ahrefs, they offer certain options on a limited basis for free. Some of these options include:
Position Tracking
Site Audit
Listing Management
SEO Content Template
SEO Writing Assistant
On Page SEO Checker
Keyword Magic Tool
Keyword Overview
Domain Overview

4.5 out of 5 stars
SemRush is the leading tool for improving online visibility and SEO. Their all-in-one tool suite and reports help marketers improve SEO, PPC SMM, and more. Features include extensive keyword research, competitive research, content marketing, campaign management, and market insights.
Ratings
Features & Pricing
Pros and Cons
Features & Pricing
Content Amplification/Boost
Price starting at:$99.95
Pros and Cons
Easy to use for both clients and managers
Constantly updating features
Excellent keyword research tool
Comprehensive historical trends research
Some discrepency between Semrush and Google Search Console
Best for: Businesses of all sizes

4.5 out of 5 stars
SemRush is the leading tool for improving online visibility and SEO. Their all-in-one tool suite and reports help marketers improve SEO, PPC SMM, and more. Features include extensive keyword research, competitive research, content marketing, campaign management, and market insights.
View
21. Merkle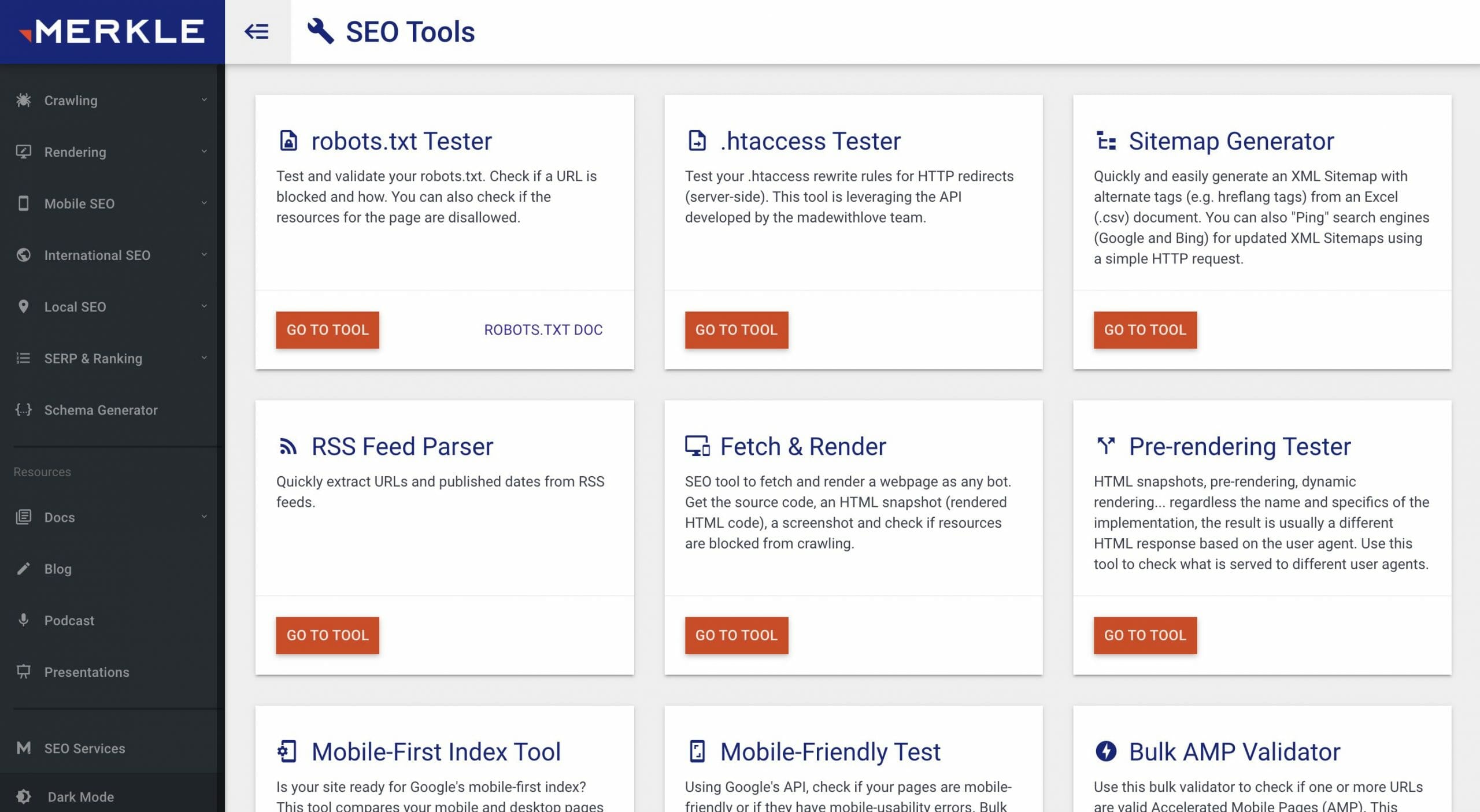 Merkle is another site filled with technical SEO tools, though most of them require a paid subscription. A couple of their free tool options include:
Schema Markup Generator
Google SERP Simulator
Mobile-First Index Tool
22. SERP Snippet Optimizer

Check out what your landing pages or blog posts might look like in Google search results with the SERP snippet optimization tool. Input your page title, URL, and meta description to make sure it all fits and will grab attention.
23. Monitor Backlinks

Monitor Backlinks is a paid tool that offers a free trial, but they offer a free backlink checker for anyone to use. Input a URL (either one of yours or a competitor's) to gauge how many backlinks you've received—or that you need to in order to compete.
24. Help a Reporter Out (HARO)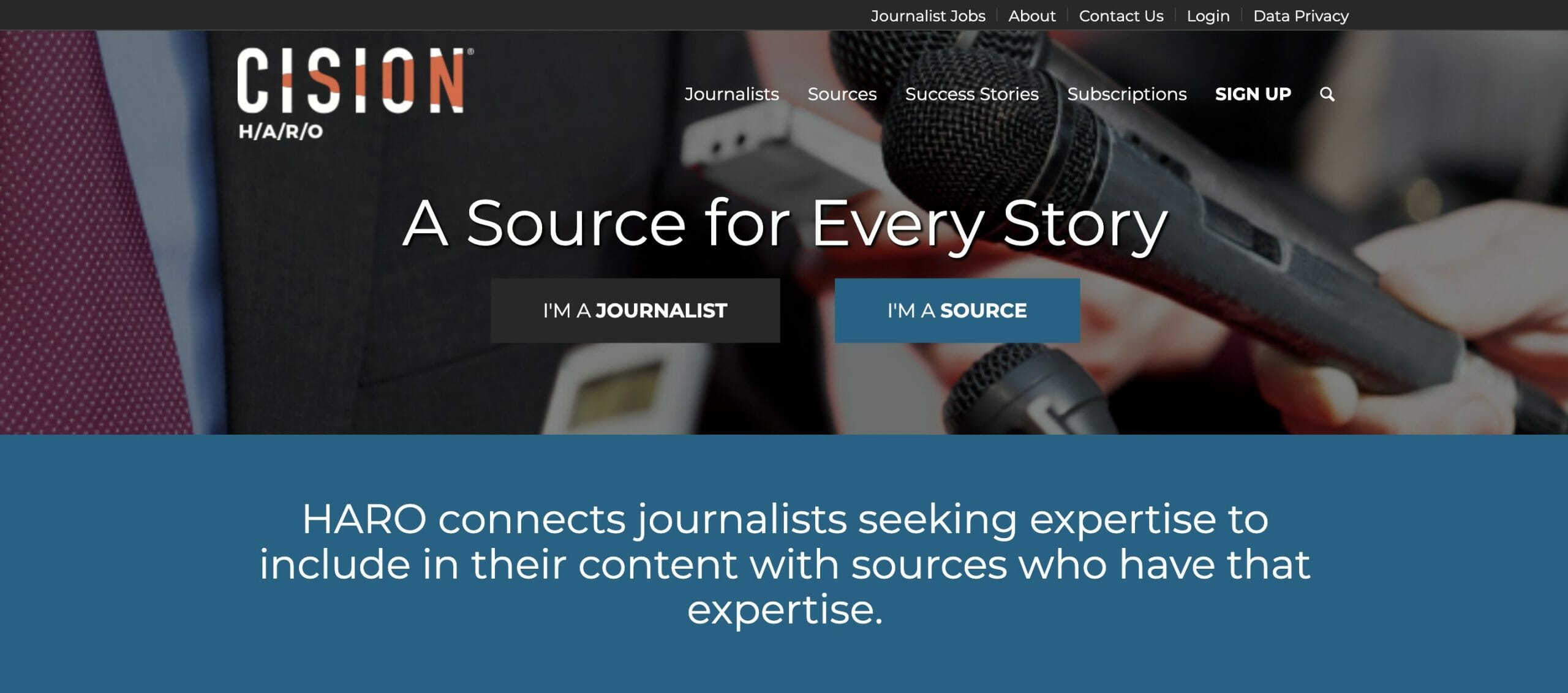 One great way to increase your own backlinks is by building connections and giving out backlinks. Having expert quotes in your content is a great way to stand out, and you can start by asking questions on HARO, where people will browse relevant queries and respond with their own insight. And vice versa, you can use HARO to become a source in your right, building valuable backlinks to your website.
25. Qwoted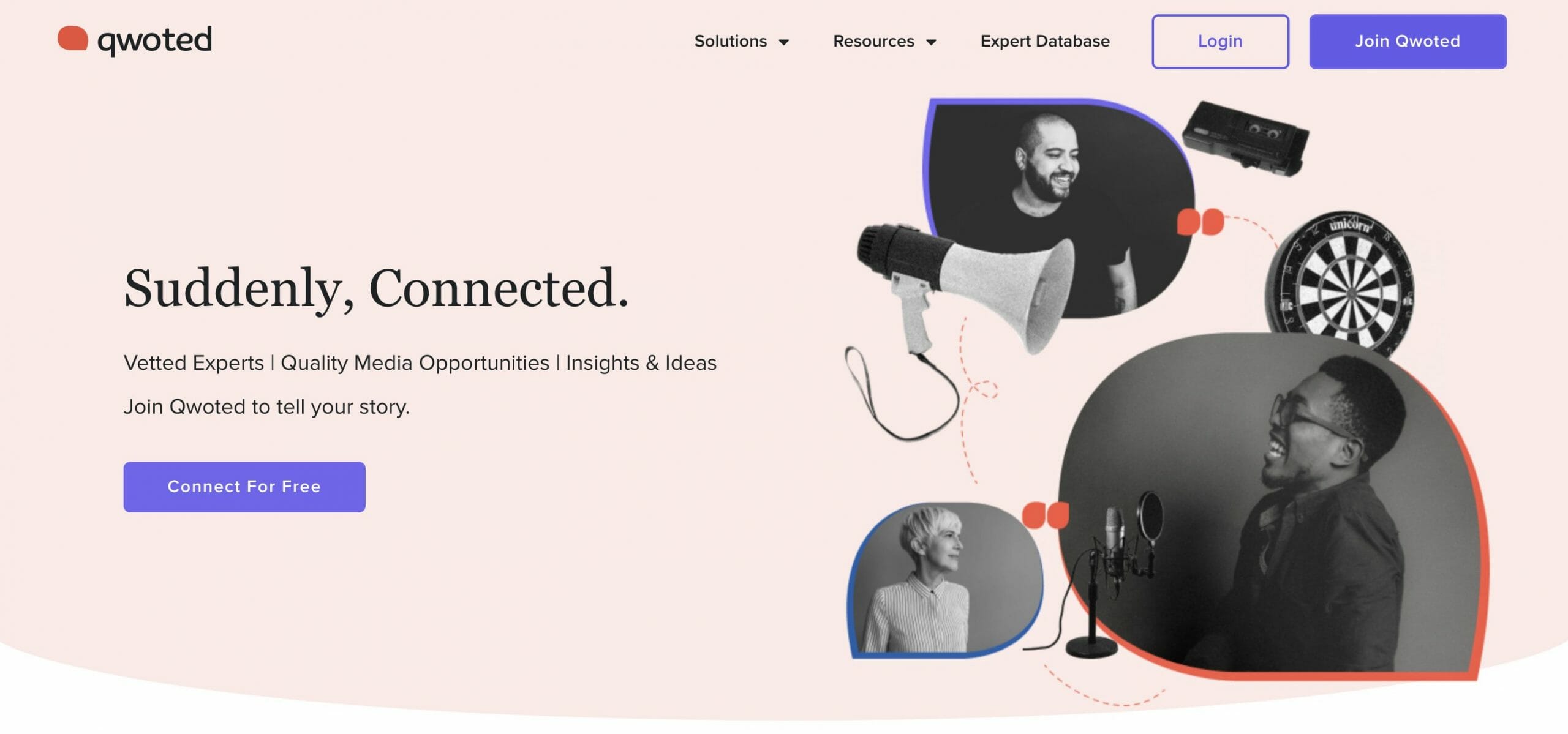 Qwoted is another great place for building backlinks. Create your own source profile to be connected with journalists writing about your industry for free. Provide your insight, and give them a website to link back to alongside your quote.
26. Help a B2B Writer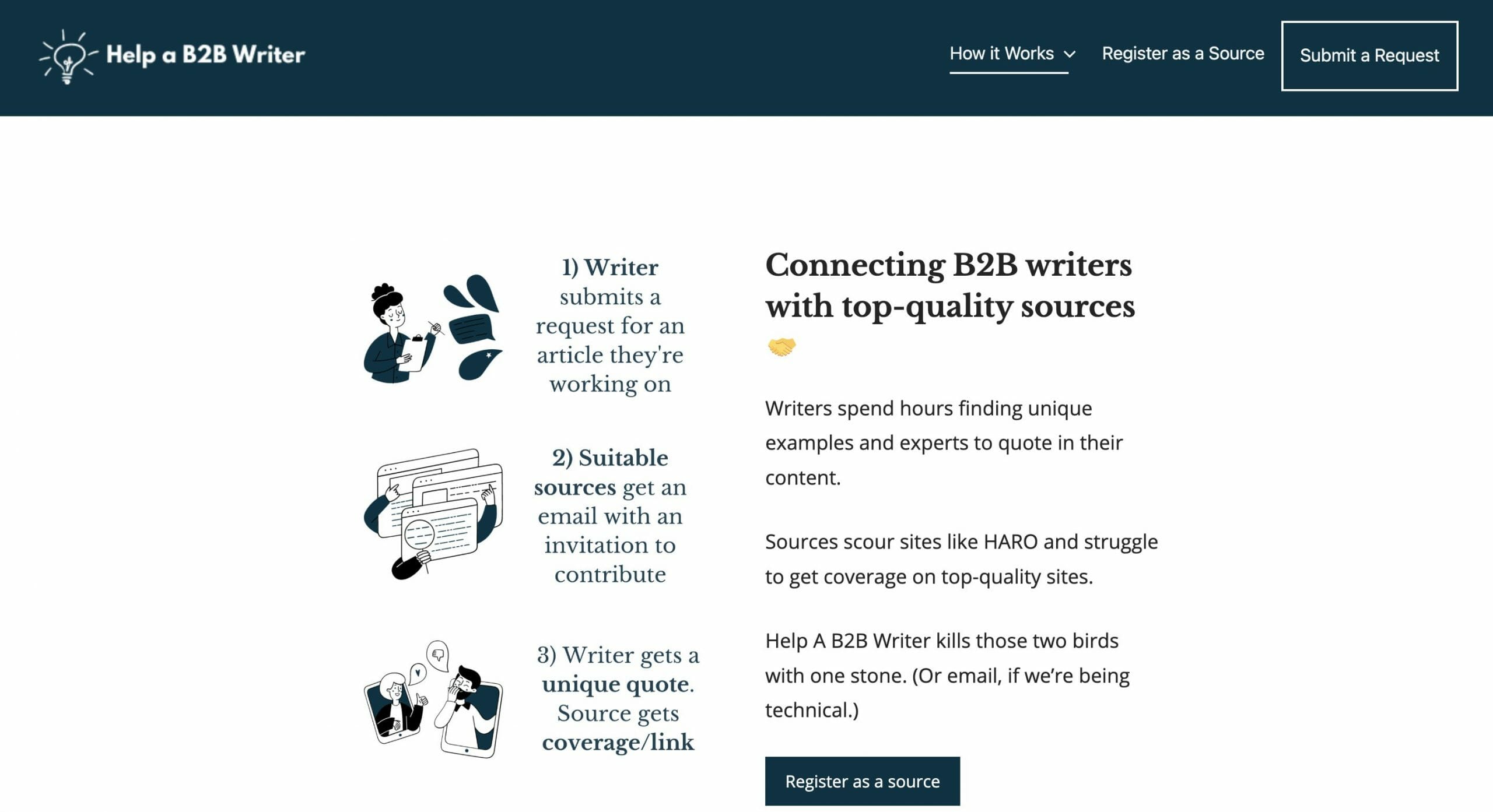 Help a B2B Writer is another great place to gather your own quotes or share your own input. Submit a request or register as a source so that you can generate backlinks while also getting additional expert perspectives for your content.
27. Detailed SEO Extension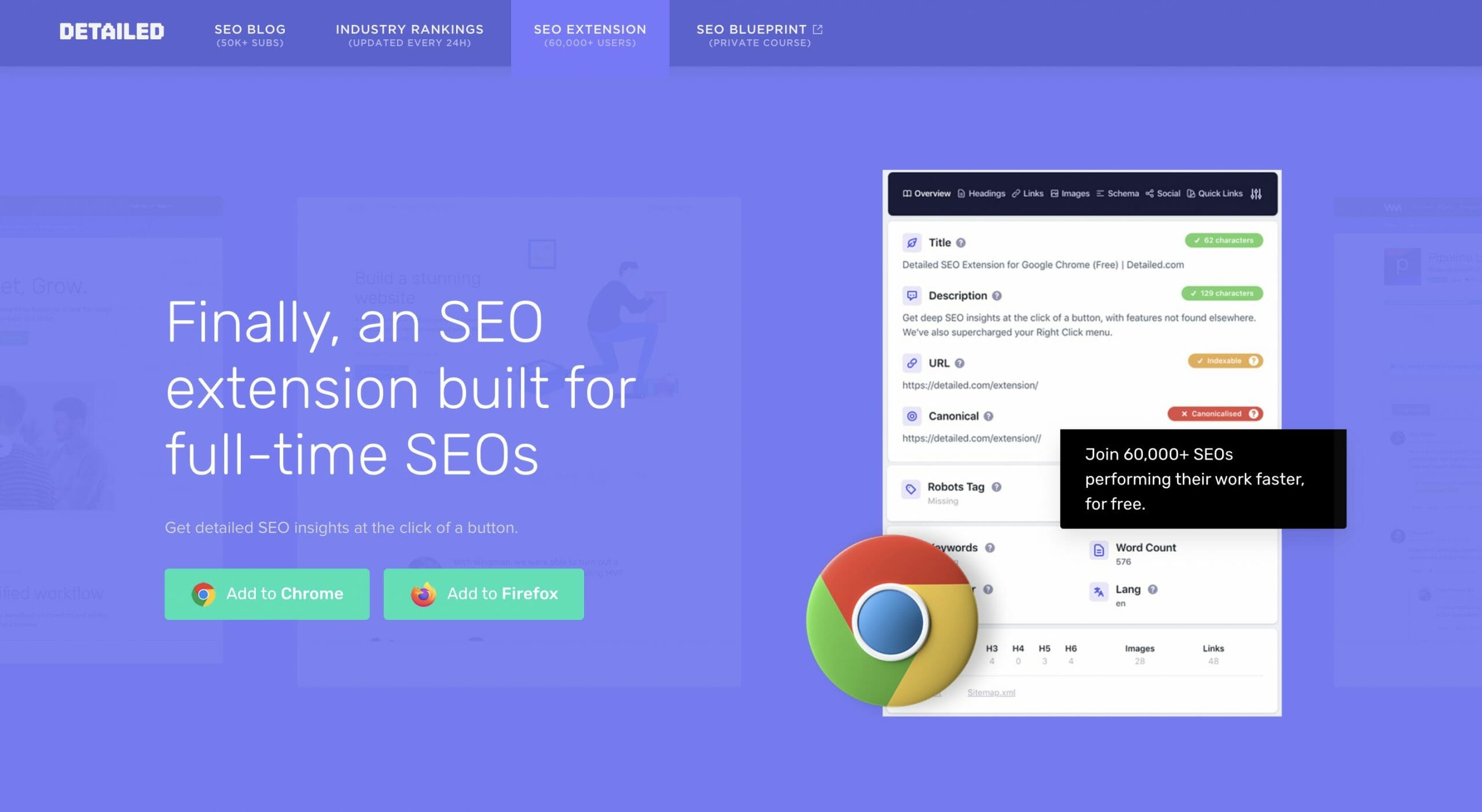 Easily audit your own landing pages and blog posts with the Detailed SEO Chrome extension. Activate it, then anytime you're on one of your website pages, you can easily see if your meta title and meta description fit properly, as well as if your URL is indexable, and more.
28. Animalz Revive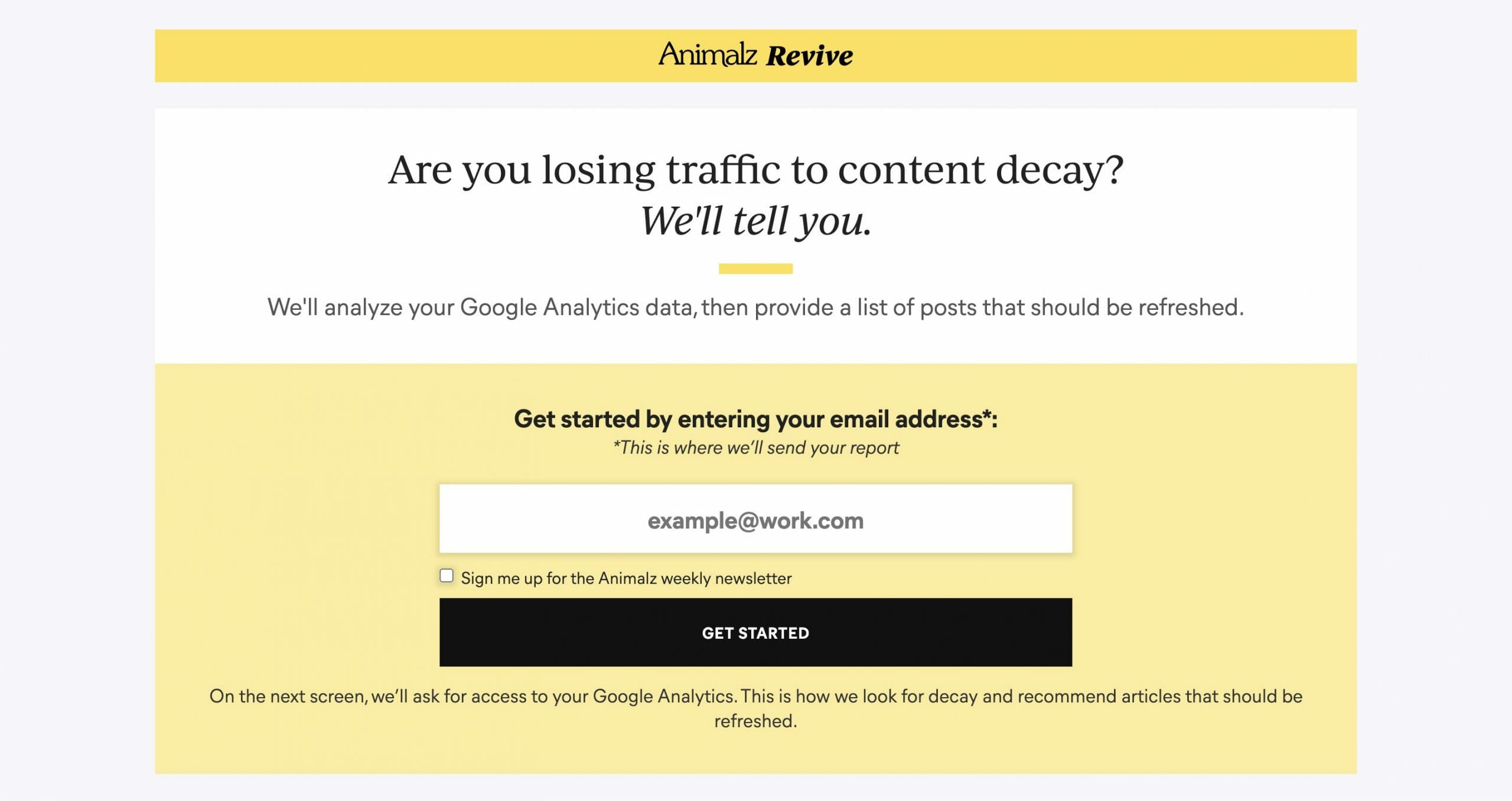 Animalz is a content marketing agency, and they've created an additional tool to help businesses discover if they need to refresh any of their old content. Simply input your email address to get started with the analysis, and Animalz Revive will let you know which posts need an update. Updating content is key to keeping it fresh and ranking well.
29. CanIRank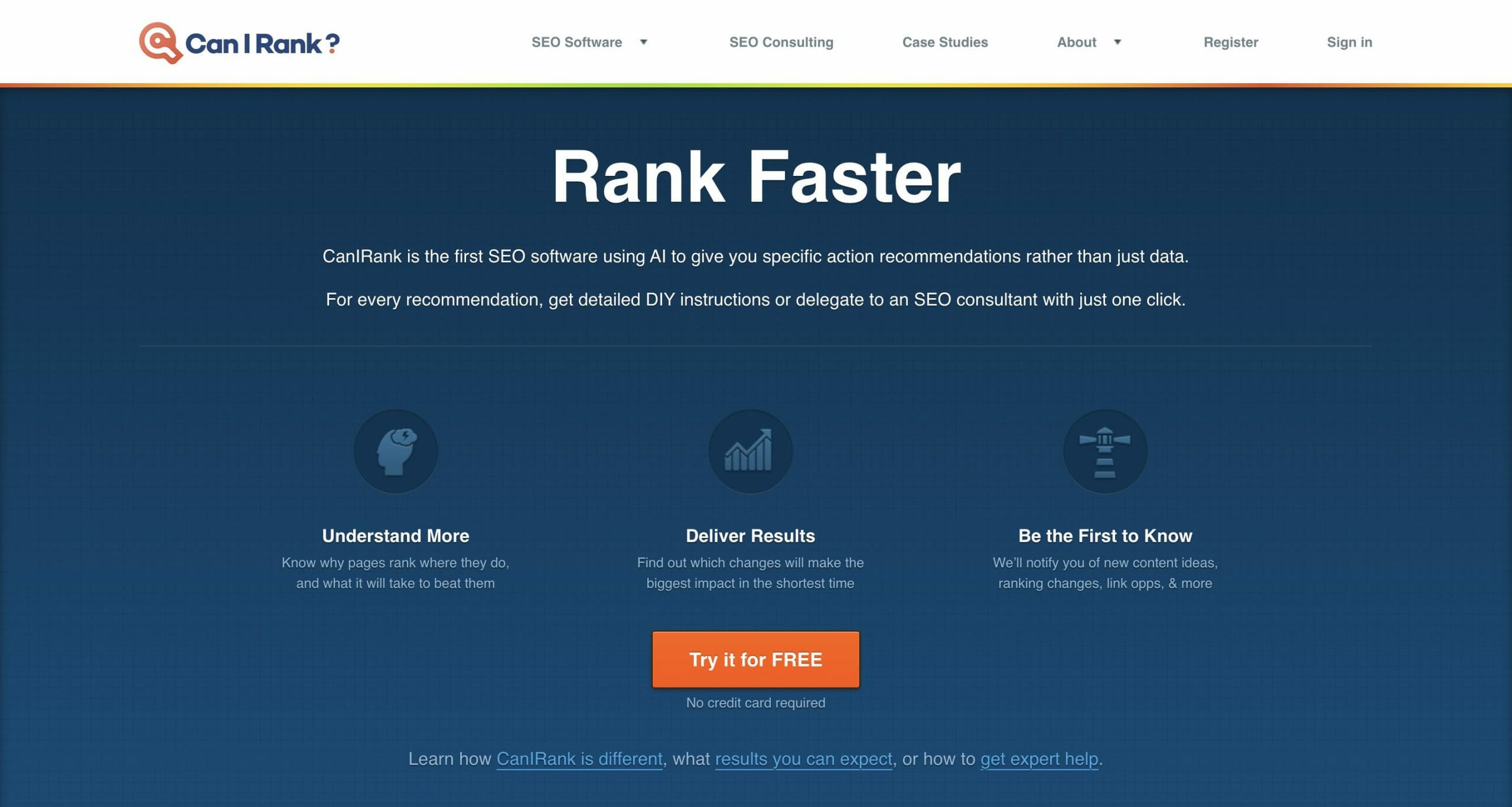 With CanIRank, you get more than just the keyword analysis for a single query. This tool lets you know the probability of whether or not your website can rank for that keyword, and helps you find alternatives if the likelihood isn't good.
30. SEObility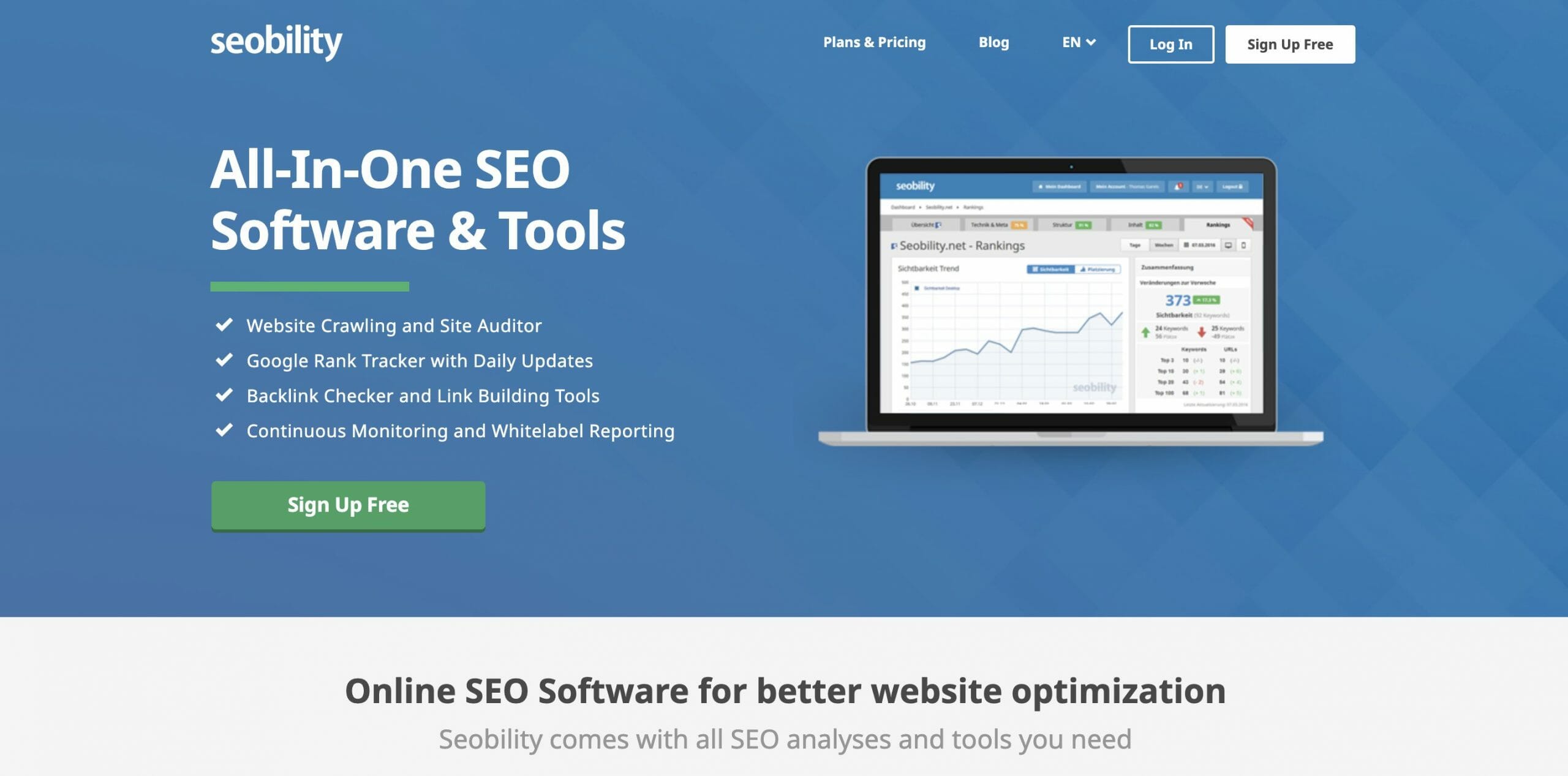 SEObility has paid plans that offer more features, but their free account is enough for businesses to get started. Crawl your website and get a site audit, get access to rank tracking, check for backlinks, and more.
Related Content:
10 eCommerce SEO Tools and Software to Help You Grow Your Online S…
Top 13 Free SEO Tools to Help You Rank Better
Top 9 Competitor Analysis Software Tools Every Marketer Should Kno…
Find the Right Free SEO Tools For Your Team
Looking to ramp up your website's SEO? These 30 free SEO tools can be a huge help at little to no cost (though some have paid plan options). To learn even more about SEO, check out our full guide to search engine optimization.
Frequently Asked Questions
Are there any free SEO tools?
While SEO tools are known to be pricy, there actually are several free tools or free options for paid tools. We've put together this list full of our top 30 free SEO tools for you to try.
What is the best free SEO tool?
There are so many great options out there for businesses looking for free SEO tools. Try out all of Google's options, check out what Ahrefs and SEMRush have available at no cost, then utilize some fully free tools like Ubersuggest, SERPSim, and more.
How can I optimize my SEO for free?
Every business wants to optimize its website for search engines, but it can be costly to do so—both monetary and time. However, you can start for free by using tools like Ubersuggest to do your keyword research, Yoast SEO to optimize your blog content and landing page copy, and Monitor Backlinks to ensure you're getting backlinks to your website.
Can I do SEO on my own?
Absolutely! We highly recommend looking into our guide to SEO, learning more about SEO copywriting, and discovering some of our quick tips for ranking higher on Google. Plus, with this list of 30 free SEO tools, you'll easily be able to venture into the world of search engine optimization on a budget.
How much does SEO cost per month?
Although you can do SEO for free, if you're looking for paid help, an SEO agency can cost anywhere from $2,500-10,000 per month. Many SEO tools also have top-tier price points for their full plans. So if you're looking to start saving up for your SEO investment, we recommend putting aside several thousand per month.

Over 30.000 marketing professionals rely on us for their news. Shouldn't you?
Subscribe to the world's #1 influencer marketing newsletter, delivered bi-weekly on a Thursday.
Try it